IT'S ABOUT PRESENTATION
Enjoy fun unique and exciting events that focus on intermingling, connecting and discussing love and relationships. You will also hear detailed models that will help you identify where you are in your spiritual and romantic development, what the opposite sex wants and what to look for in the opposite sex.
Check out Dr. Dave's Next Events Below:
AAMM/AAWW Social
Members of the popular group: "Ask a Male Monday/Ask a Woman Wednesday" and the DITR Events Meetup will be getting together to socialize, go to lounges events and outings, get-togethers etc. The events will be posted here and the hope is that we will all get together and be able to relax and come together with each other.
While out, the topic is ALWAYS Love, Sex and Relationship with an opportunity to hear more about #SoulMates from #TheSoulMateSpecialist

Fridays on City Ave. will be home base, but venues will vary all over Philadelphia.
Soul Mate Ministry for Singles
The newest and most unique Singles Ministry. This ministry will start at 7:00 and will be a quick message about the word and how it relates to Love, Relationships, Being Single and what it has to say about Soul Mates. Following this, we will have a mix and mingle.
We are inviting churches all around to join us for this new and exciting ministry brought to you by Tindley Impact Ministries and our very own
Dr. David Pulley "The Soul Mate Specialist".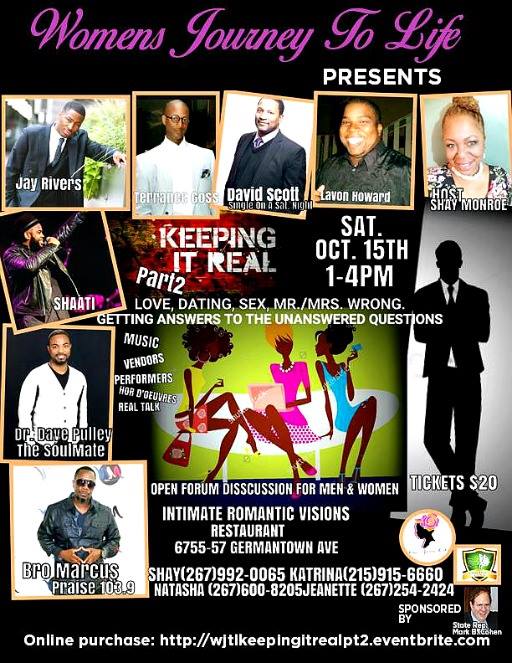 Keepin' It real Part II by Women's Journey to Life
Keeping it Real was Woman's Journey To Life's vehicle to begin to cultivating more effective communication between men and women and the world which surrounds them. Asking the unanswered questions!

Asking the unanswered questions! Breaking down the he said /she said. Is he or she Mr. or Mrs. right or right now?
Breaking down the "He said/She said!"
*DOORS OPEN AT 12:30pm
MUSIC, SURPRISE PERFORMERS, HOR D'OUERVS, VENDORS, AND EXTRA SURPRISES!!!

PANELISTS: Dr. Dave Pulley The Soul Mate Specialist, Bro. Marcus of Praise 103.9, David Scott of Single on A Saturday Night TV, Lavon Howard of Path To Greatness, Terrance Goss Director at Urban Angel Movement, Joshua (Jay) Rivers: (award winning writer, author, and lyricist), Shaatir (Shaati) Monroe, Entreprenuer Videographay & Photography, (lyricist and Artist). All ready to turn up the heat and Keep it REAL!
Tickets Here: https://keepinitrealpart2.eventbrite.com
Copyright © 2009, 2015 All Rights Reserved For Diamonds In The Rough Consulting, LLC